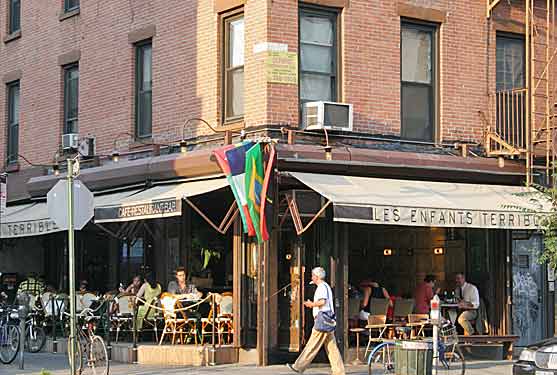 How will your taste buds react to a fusion of African, Moroccan, Brazilian and French palette? Order the Korhogofefemougou steak marinated in Ivory Spices at Les Enfants Terribles and find out for yourself. This cozy restaurant located deep in the heart of Chinatown is on the corner of Canal and Ludlow.
It will blow your mind to be sitting in a restaurant with a colonial French interior décor eating a fusion of French African food while staring at the signs outside in Chinese while listening to Mariah Carey. It was an absolute pleasure to be enjoying my meal in the constant cool breeze that swept through the restaurant so I excused the poor choice in music. A place like Les Enfantes Terribles is where real New Yorkers eat; not at the Hard Rock in Times Square (no offense).
The breakfast and lunch menu is separate from the dinner menu. If you're looking to take a stab at the Korhogofefemougou steak, no pun intended, be sure to make reservations after 5:30PM. I went for lunch and ordered the Merguez sandwich, which comes with spicy Moroccan sausages and harissa (hot sauce) and a side of fries.
After mistakenly grabbing the dinner menu instead of the lunch menu, I've already planned my next meal at Les Enfants Terribles: Tartare de Thon et de Saumon – Tuna and salmon marinated in Kanifi (African spices), avocado puree, mango and kiwi.
Les Enfantes Terribles

| Menu

37 Canal Street

New York, NY 10002